Latest highlights:
The planting programme – we're nearly finished
Nursery working bee
The planting programme – we're nearly finished
What a week that was!  Wasn't it amazing weather?  I can assure you I hadn't made any special arrangements in that regard.
On Monday, a small but dedicated band set to and finished off the planting at Bryce and Aneta Lupton's, getting 750 in the ground that day to bring the total for that site to 2,650.
On Tuesday I carted plants in preparation for the next day.
On Wednesday, 27 staff from the Fonterra Kauri and Maungaturoto sites came out to Ashley and Karen Cullen's at Bickerstaffe Rd and planted 850 trees as well as did some releasing work in the area that had been planted the previous year.
On Thursday I joined a team of 8 from UDC out at the Roadley property at Batley to carry on the work started by the Spark Foundation people earlier in the season. We estimate about 500 trees got planted.  Leader David's mum Sue (a regular at such events) came along too, along with his uncle David and aunty Lynette, so it was a bit of a family show (see photo).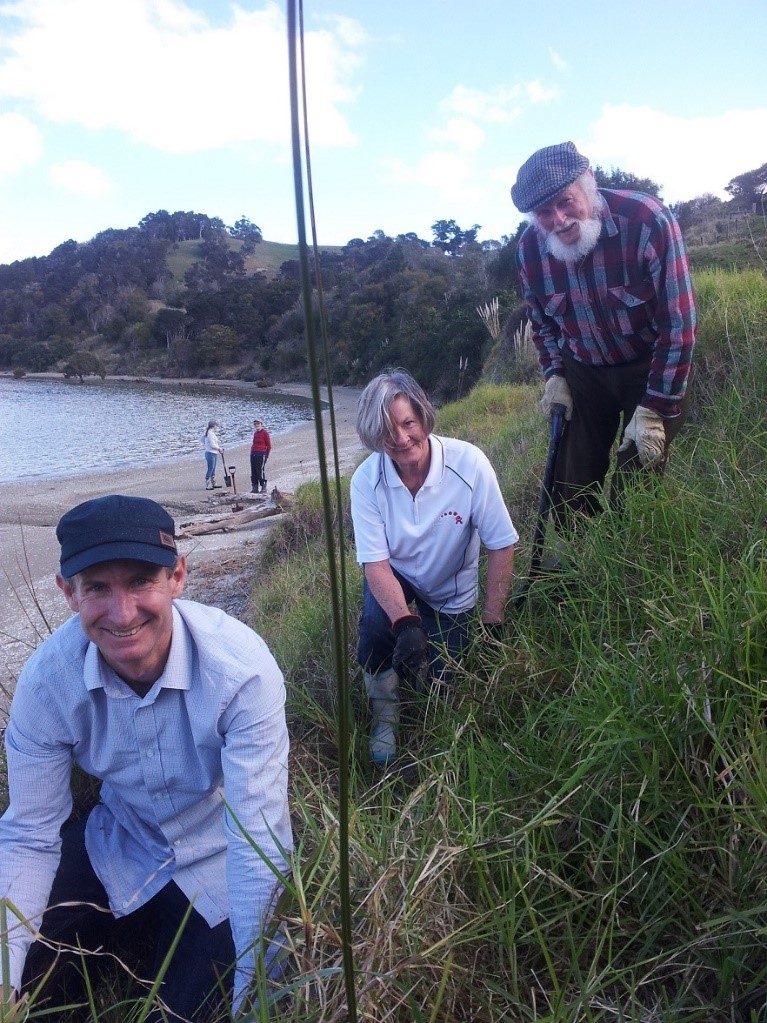 On Friday I carted plants in preparation for Saturday's big event.
Saturday was the day the Paul Henry Show came to Ross and Debbie Cocking's. Paul did a wonderful job going around the two dozen-odd diggers and planters handing out the Snickers bars donated by Countdown, socialising and even planting a few trees.  This guy is a legend, ably supported of course by partner Lyndsay, who also really entered into the spirit of the occasion.  There was plenty of morning tea, which Paul seemed quite keen on, and at the end of the day we had planted about 2,050 trees, and finished the site in time for lunch.
This meant that the total for the week was 4,150 trees planted – phew!  This means that we have nudged over 15,000 trees planted under our banner this year, with a couple of smaller plantings to go.
We will likely have a few hundred trees and flax left over from our committed plantings.  Let me know if you have any ideas for finding a home for them.  We don't want to set up in competition with commercial nurseries, but a contribution to our funds in return for plants would be appreciated.
Nursery working bee
We will be having a working bee in the nursery this Thursday morning at the usual start time of 8.37 am.  Which reminds me, I need to bake another cake!  We have plenty of pricking out to do.