Latest highlights:
Happy New Year!
Nursery happenings
On the scrounge for kanuka seed
Reconnecting Northland helps out again
Radio NZ Roadmap
Supporting the IKHMG at Whakapirau
Happy New Year!
I can't believe it is three months since my last Update!  Happy New Year everyone, and a warm welcome to Winston, Kelvin, Nigel, Karen, Anne and Liz(2), first timers since November.  I haven't been totally idle since last time, as the stories below will indicate.  It's been fantastic weather for growing things – I wish I'd entered my 610g tomato in Paparoa's A&P Show!
Nursery happenings
Late December we got the shade cloth on, with special thanks to Hans, he made it so easy, all done in a morning.  After a bit of a stutter in getting the right product for the job, I also finished getting the weed mat down this week.  It took quite a bit of preparation time, but I am really pleased with the result. (see photo)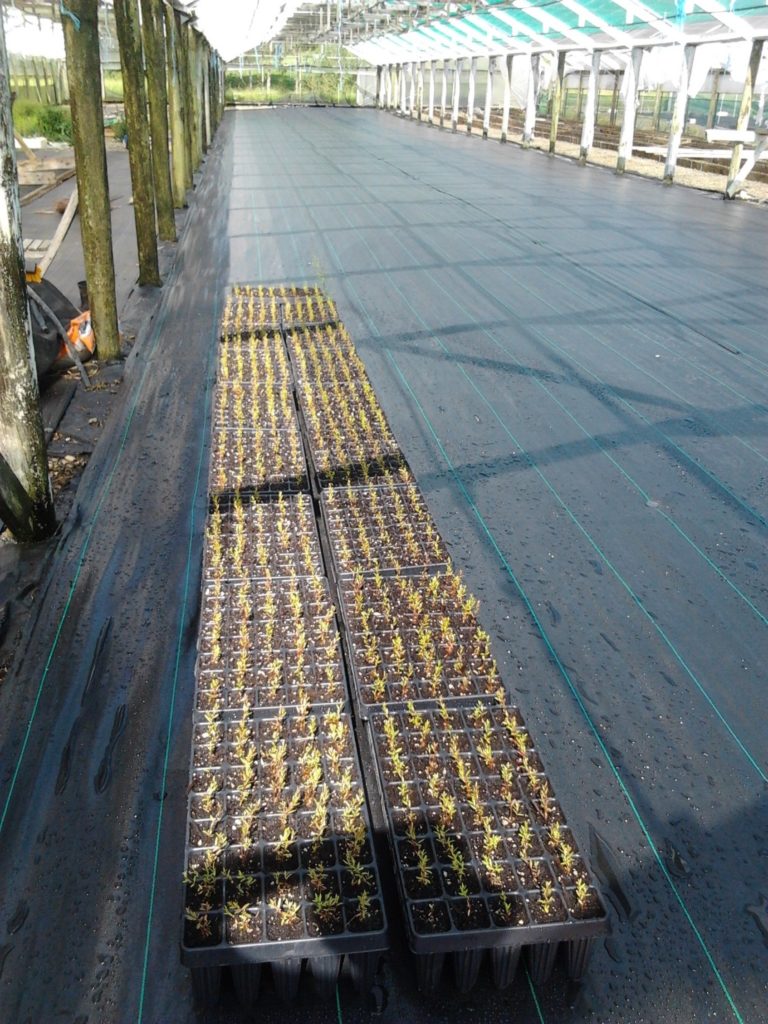 Another load of potting mix arrived last week, as did two trays of cell-sized Manuka plants propagated for us by Nga Rakau nursery.  This morning I got all 670 of them potted up in just under two hours.  They are from seed I collected about last October.  I have got a variety of plants, mostly flaxes to pot up over the next couple of weeks; it's not the most ideal time of year for that, but at least now I will have somewhere to put the plants to get over the shock of transplanting.   Give me a call if you'd like to lend a hand in the nursery, there's a variety of tasks to keep on top of, and fresh fruit cake to go with the coffee of course.
On the scrounge for kanuka seed
Kanuka is setting seed at the moment, and the ones at home here are quite shy breeders.  If you live locally and can spare a branch or two, please get in touch
Reconnecting Northland helps out again
It's great to be able to advise that Reconnecting Northland (see: http://reconnectingnorthland.org.nz/ if you want to find out who they are) have upped their support for this coming season, the main changes being that they will provide 7,000 plants and labour to plant them.  This should keep us on track to have at least 15,000 plants to put in the ground this winter.  Yeehaa!
Radio NZ Roadmap
I must confess to being a fan of Radio Albania, as Judith Collins calls it, but they have some really interesting programmes.  One of these took place on the afternoon of 2nd December in their "Roadmaps" segment.  I had put Paparoa forward as a candidate, and got first go at talking about our place.  Inevitably of course, the discussion turned to Otamatea HarbourCare (I made sure it did!), so I had a chance to promote us and our cause on National Radio.  If you want to have a listen, here's the link: http://www.radionz.co.nz/national/programmes/afternoons/audio/201781139/roadmap-paparoa
Supporting the IKHMG at Whakapirau
I was remiss in not passing on the word in advance about an IKHMG event (that's the Integrated Kaipara Harbour Management Group for newcomers) which took place last Sunday at Whakapirau.  It serendipitously coincided with the local Residents and Ratepayers deferred New Year get-together, and there was a great turnout in spite of the dodgy weather.  Peter and Christine and others of the Yardley whanau were on hand to provide the dinkum oil on what is going on in the harbour fishery at present.  Meanwhile there were sack races and the like going on in front of us along the foreshore.  It was great to be part of a community event and to have the chance to fly our flag and talk to people about our harbour restoration efforts. (see photo)